NEWS
Last Updated on
12.11.2020
On November 11th, the German television channel ARD alpha transmitted a television broadcast (in German) on the research done at MunichImaging, the research group surrounding Prof. Dr. Vasilis Ntziachristos, Coordinator of INNODERM. The broadcast was part of the series Schwanke meets Science in which meterologist and moderator Karsten Schwanke visits different sites in Germany, where research is carried out at the highest level. He  lets the people involved explain their scientific passions to him in detail. This episode featured research on optoacoustics and work done within INNODERM. You can watch the video here: Making the invisible visible.
11.11.2020
On November 10th, Dr. Juan Aguirre, lead scientist in INNODERM held a webinar on 'a novel view on skin inflammation by means of raster scanning optoacoustic mesoscopy' (RSOM). The webinar was hosted by our partners at iThera Medical. Juan explained the basic concepts behind RSOM and what features can be imaged with this before going into the possible clinical applications of RSOM with regard to skin infllamation (e.g. psoriasis and allergy testing). The webinar was followed by a Q&A session and you can watch it here: Media & Webinars.
13.07.2020
On Friday, we had our 3rd project review meeting. The meeting took place in a virtual setting which worked surprisingly well! Our team from iThera even presented an impressive live demo of our RSOM system.
The picture was taken from our dress rehearsal the day before. One major disadvantage is that people can more easily hide from the group picture:)
July 2020

The Team of INNODERM has more or less been back to business as usual and we are happy to finally be able to pick up on our work again. Because of the delay and because we cannot pick up at full speed straight away, we applied for and were granted a project extension. The project will now continue until August next year.
April 2020
How Corona affects INNODERM 
With nationwide measures to minimalise the impact of Covid-19 in each of INNODERMs partners' countries, the project has inevitably been affected. The majority of us have been confined to work from home as universities, hospitals and on-site work at our SMEs have been reduced to minimal working mode.
Being at an advanced stage of our project however (we have officially started our final year), and after fruitiful exchanges in which we took stock of the situation, it seems that the impact of the lockdown at this time seems to be overseeable. This said, it depends on how the situation develops. We will keep you posted!
19.12.2019
4th INNODERM CONSORTIUM MEETING in Munich, Germany
On the 19thDecember, INNODERM met for yet another consortium meeting in Munich. Germany is renown for its Christmas markets, so the choice of location fot this December meeting was an easy one! Three of our advisory board members joined us for the meeting, as well as our ethics advisor. INNODERM is getting prepared for its final year!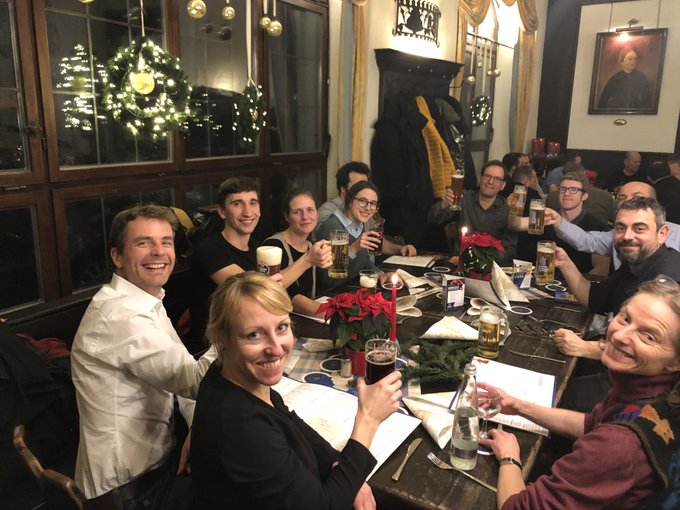 22.11.2019
INNODERM does science slam!
On Friday 22nd of November, Andrei Berezhnoi, PhD student in Prof. Vasilis Ntziachristos' research group (MunichImaging ), participated in the 5th Munich Science Slam (http://www.munich-science-slam.com).Ten speakers – mostly PhD students but also a couple of Master students – had 5 minutes each to give a quick but succinct sketch about the research topic they are passionate about and wanted to share with others. Andrei talked about "Awesome RSOM" and gave a gist of the work that is being done in the INNODERM project.
There were about 105 people in the audience, a lot of laughs and punch lines. A special twist at this event was the brief summary at the end of each talk that had to be given by an audience participant based on the drawing that another audience participant had to spontaneously draw up during the talk itself. No question, Andrei did a fantastic job and was vitally supported by members of MunichImaging!
"The sun is basically trying to kill us all the time" (Andrei)
"Be sound and take care of your skin" (Andrei`s take home message)
14.10.2019
INNODERM participates at the Congress of the European Academy of Dermatology and Venereology in Madrid
From the 9th until the 13th October 2019, members of the INNODERM consortium participated in the industry session of the 28th Congress of the European Academy of Dermatology and Venereology (EADV) which took place in Madrid. The EADV Congress is the largest dermatology meeting in Europe, attracting over 11 000 attendees from all over the world. The meeting provided a fruitful and exciting platform to present the project results to a wider audience. We were proud to discuss the potential of optoacoustics as a new imaging modality for the diagnosis and monitoring of skin diseases such as melanomas and psoriasis, and thrilled by the positive feedback and interest we received.
More information on the Congress here www.eadvmadrid2019.org.
October 2019
We created some new promotional items for the project, check them out!
Innoderm T-Shirt, who would not want to have one??
And a business card.
07.08.2019 – New Publications
In July, we published two new papers on the INNODERM project. You can find full access to both papers in our section featuring our publications.
1.
Moustakidis S., Omar M., Aguirre J., Mohajerani P., Ntziachristos V. (2019). Fully automated identification of skin morphology in raster-scan optoacoustic mesoscopy using artificial intelligence. Medical Physics. doi: 10.1002/mp.13725
Identification of morphological characteristics of skin lesions is of vital importance in diagnosing diseases with dermatological manifestations. This task is often performed manually or in an automated way based on intensity level. Recently, ultra-broadband raster-scan optoacoustic mesoscopy (UWB-RSOM) was developed to offer unique cross-sectional optical imaging of the skin. A new method (SkinSeg) based on machine learning is proposed here to enable, for the first time, automated identification of skin layers in UWB-RSOM data.
2.
Nitkunanantharajah S., Zahnd G., Olivo M, Navab N, Mohajerani P, Ntziachristos V. (2019). Skin surface detection in 3D optoacoustic mesoscopy based on dynamic programming. IEEE Transactions on Medical Imaging. doi: 10.1109/TMI.2019.2928393
In this paper, the authors present a novel dynamic programming approach for skin surface detection that extracts the skin boundary as a 2D surface in one single step, as opposed to consecutive extraction of several independent 1D contours. The automatic skin surface detection method can improve the speed and accuracy in the analysis of quantitative features seen on RSOM images and accelerate the clinical translation of the technique.
12.04.2019 – The Second Review Meeting in Brussels
The INNODERM Consortium met again in Brussels in April 2019 to present the progress made in the second reporting period. We received valuable feedback from the PO and our reviewers on the progress we have made so far, and received input for future steps and the next project period.
10.10.2018 – 3rd INNODERM CONSORTIUM MEETING in Munich, Germany
The 3rd INNODERM Consortium Meeting took place in Munich and was hosted by TUM.
06.-07.07.2017 2nd INNODERM CONSORTIUM MEETING in Milano, Italy
The 2nd INNODERM Consortium Meeting took place in Milano and was hosted by HUNIMED.
20.-21.10.2016 1st INNODERM CONSORTIUM MEETING in Besançon, France

The 1st INNODERM Consortium Meeting took place in Besançon and was hosted by Sonaxis.
03.03.2016 INNODERM KICK-OFF MEETING in Munich, Germany

On March 3rd 2016, the INNODERM project was launched at the Technical University of Munich.
All project partners met each other to start the project with very fruitful and successful discussions.
01.-2.03.2016 Photonics Public Private Partnership Annual Meeting 2016 in Brussels, Belgium
Prof. Ntziachristos presented the INNODERM project at the Working Group "WG3 LIFE SCIENCE AND HEALTH" session.
With more than 300 high level representatives, among whom CEOs, CTO and CFOs of many leading European photonics companies and heads of photonics research institutes, political representatives, and representatives from the European Commission, the Annual Meeting is intended to provide the Photonics community a unique opportunity to explore and contribute to the further evolution of the European Photonics strategy. The seven thematic Working Groups of the Photonics PPP will facilitate discussions, take stock of the progress in each of the areas, discuss current needs and trends, and look in to the future opportunities of the field.